Just a little update – and breakdown – on the survey responses so far. A lot of folks have been curious about when the results of this survey will be made available – which is great. I want to reiterate that we are still in the first few days of a 2 year project. I'm excited to develop and share preliminary analyses well before the end of the project, but there are more than a couple steps in between now and then. The survey itself will be up and running for another several months. Hint, hint.
That being said, here is a snapshot of a the first week of the survey. I'm sharing a geographic breakdown right now, just because it's too soon to dive into more in-depth analysis. I will soon be sharing some other early results of systematic literature analysis – or bibliometrics – that went into my proposal dissertation – so stay tuned.
International responses constitute about 1/3 of the total so far.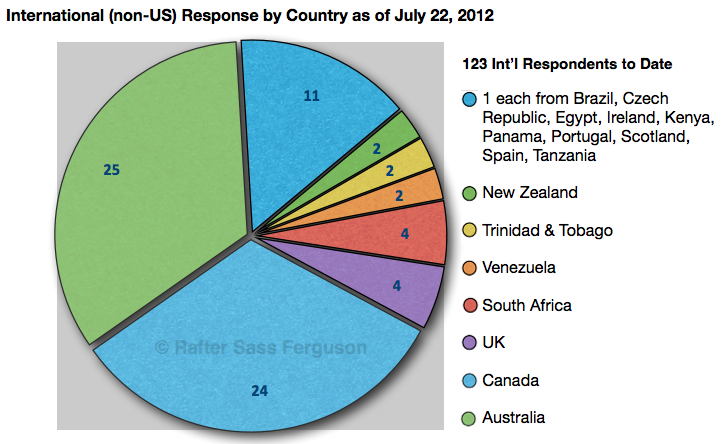 And domestic US response are pretty widely distributed.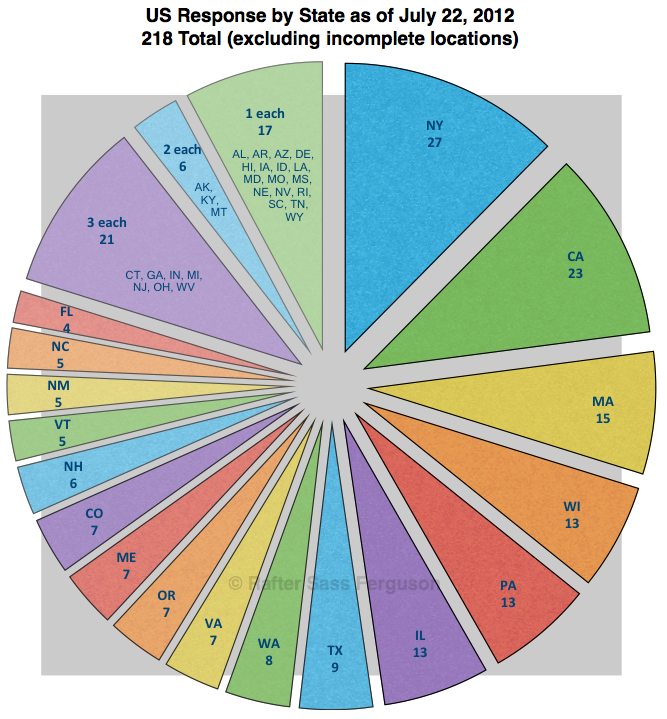 Now, one of the interesting things about the distribution of responses – especially domestic responses – in this first week, is how it appears to be shaped by the strength and distribution of my own social networks. Statistically speaking, it's not at all a truly random sample. That's ok – especially since that's how it has to be! We actually don't know enough about the permaculture population-at-large (i.e. we know nothing) to even generate a scheme for truly random sampling. Nor, as it happens, do I have a budget for that. Ahem. It may happen someday, but not in this project…
And if your a Facebooker, and you haven't connected to the Liberation Ecology page on Facebook, please do! And invite your permaculture friends and colleagues to invite their friends and colleagues to take the survey. Thanks, again, to everyone for their participation.