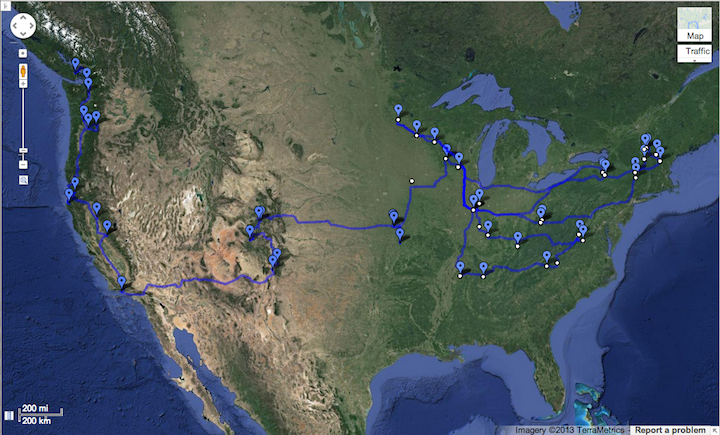 I've now been on the road since July 2nd, with the exception of four days home earlier this month. The rest of 2013 is going to feature about a month at home, all told.
The map above shows a draft of the routes I'm traveling and the rough locations of the farms I'm visiting. Things often end up changing a bit once I'm actually on a route, as you might imagine. I've done my first pass at the northeastern route, and I'm most of the way through the southeastern route as I write. I've been to about half of the Great Lakes Region farms. Coming up next is the biggest chunk: the West Coast / Southwest route: 23 farms in two months.
It's exhausting and intense – and there is nothing I would rather be doing in the world. I'm visiting permaculture-identified farming operations all over the country. I'm spending, generally, less than a day at each farm –  sometimes as little as four hours – and intensively gathering data in multiple formats while I'm there. Farmers are busy, busy people, and I've designed the bundle of methods I'm using around the goal of learning as much as possible in as short a time as possible. During my time at each farm, we conduct a fairly intensive enterprise analysis, map the land uses of the farm landscape, administer a survey on quality of life and a variety of other issues, tour the farm (including lots of photos), and fill in all the gaps with open-ended discussion of my own rough list of discussion topics, plus whatever issues emerge in the course of the visit. It's intense – though I mostly, I believe, a little more for me than for the farmer. I think that's a sign that I designed my methods well.
It's a minor tragicomedy that I've been so slow to start the updates from the field. I am, after all, hoping that people will visit and read this website. My current activities  are probably the most interesting possible thing I could be reporting on, as far as my intended audience is concerned. It's also the case that this field research is only possible because of the 164 donors who generously contributed to my crowdfunding campaign last Fall, and who would presumably like to know that the project they donated to is moving forward. Hello, funders! Sorry for the slow start on updates… and thank you, again, from the bottom of my heart.
I'm now going to start posting some of the backlog of photos I've taken, and new photos, and more short updates. Hit me up with your questions, and stay tuned. Thanks to all for your patience and attention.