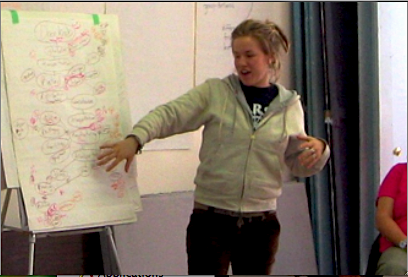 Since 2005, I've been developing and sharing a workshop curriculum to support emerging designers, activists, and scholars, in building strategic connections between social justice and ecological regeneration. The workshop grows out of two guiding questions:
What would sustainability look like, if it refused to sustain global inequality?

What can freedom look like, in a system headed toward ecological collapse?
These questions illustrates the pervasive disconnect between how we think about issues of social health – like freedom and equity – and issues of ecological health. These questions haunt the divide that runs right down the middle of the work that we do to make the world a better place. Using the material of their own projects, aspirations, and day-to-day lives, participants are guided through a process of exploring the networks of relationship that integrate us into a broader context, in a synthesis of ecological, social, and evolutionary perspectives. Hands-on mapping and project design exercises draw out hidden connections across seemingly disconnected social and ecological communities. Participants discover and discuss new perspectives on our situation, and new strategies for changing it.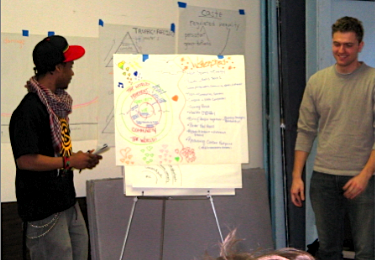 We don't have to settle anymore for the absurdity of choosing between social and ecological objectives in our lives and in our work – and we shouldn't! The workshop is an opportunity to build our theory-and-practice toolbox, so that our work can navigate a way forward in which whole system health is woven into a dynamic integrated strategy.
Inspired, visionary, everyday folks all over the world are working together now to create that future. Naming that movement as a movement, and identifying the themes that unify diverse people and projects, is part of the workshop, and part of the work we are called to do. The Liberation Ecology workshop creates an environment that's rich in what is needed for the audacious task of transforming our social system: passion, collaboration, and inspired critical thinking.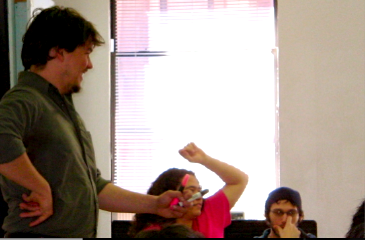 Here are some responses from workshop attendees:
"Combining micro techniques and macro solutions was brillant. […] Hopefully next year the event grows and we get to have a full week"
– John, SEEDS @ Earthdance, MA

"In his workshop on Liberation Ecology, Rafter openly engages with the overlap and interaction of social and environmental oppressions. His presentation is accessible in a way that attracts and grabs hold of your attention, and remains provocatively on your mind long after the workshop session has ended… Rafter is bringing serious analysis and action to a much-neglected connection between social-economic boundaries and environmental degradation."
– Jen Carson, farmer

"I continue to be amazed by the outcomes of our short Liberation Ecology workshop with Rafter. We identified some underlying issues of ecological design concerning social and economic justice, came together to create succinct design criteria to address these issues, and educated each other about existing projects that are already working to resolve them."
– Ethan Roland, Appleseed Permaculture

"Rafter's Liberation Ecology workshop digs to the foundation of late capitalist suicide culture more efficiently, and coherently than any other presentation I've seen. His examination of inequity is based on analysis of class, race, gender, damaged soil ecology, distributed solar energy and much more- it's all there, as of course, it has to be."
– Kevin Skvorak, Regeneration Farm co-founder

"Liberation Ecology opened my eyes to profound realizations and to connections I had never made before. As a novice, I found it completely accessible and absorbing."
– Chen Tamir, curator

"I can honestly say that Liberation Ecology is the most exciting thing I've [encountered] since stumbling across permaculture; [Rafter] articulate[s] a way of examining a very diffuse nest of problems and issues that I think would resonate with people in a lot of different movements and circles. It gives us a set of ideas and a vocabulary to start with; it's a form of conceptual empowerment."
– David Travis, Sustainable Land Stewardship Alliance

"This workshop filled me with a visceral sense of wholeness."
– Chrisophia Somerfeldt, Ithaca Ecovillage and Ithaca Race Liberation Alliance

"The [workshop] is providing a space for critical cross-movement work; work which I believe is integral to building our capacity for a more intentional, communicative, and dynamic revolutionary struggle for social, racial, economic, and ecological justice."
– Maggie von Vogt, social worker and anti-racism organizer