I've been a little bit of a mushroom geek since 2003, and have been developing a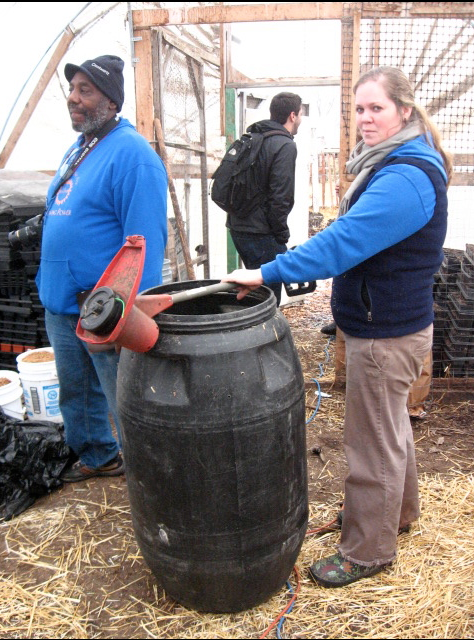 permaculture approach to teaching and doing mushroom production (which I call mycoscaping) since around 2007. I've been lucky to teach mycoscaping in and out of permaculture courses all over the northeast, and a bit further afield as well.
In 2010, I worked with Milwaukee's Growing Power to design a mushroom production system that fit with their intensive multi-layered hoophouse systems, train some their staff to manage and develop the system further – and do it all in the context of an open workshop series. For one weekend a month, over 5-months, this project was way too much fun. It grew out of a chance conversation with Will Allen at Growing Power's first Urban & Small Farm Conference.
I worked with staff to design a production system that integrated well with the existing system of intensive multi-layer hoophouse production, and used almost exclusively on-site waste materials.
I taught mycoscaping workshops once a month for five months as a breakout group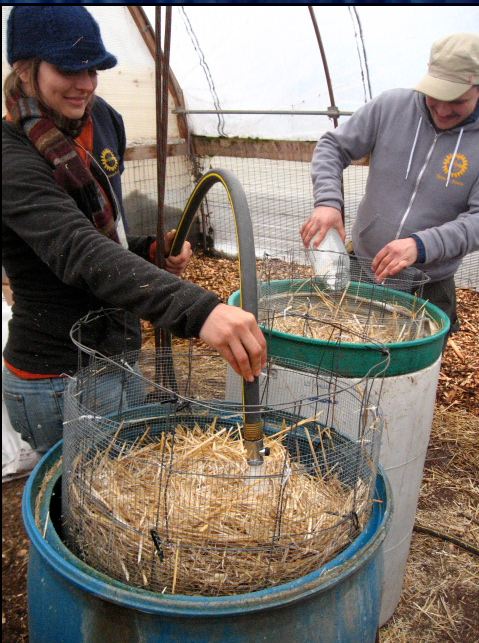 during the GP weekend workshops – and in doing so, trained up some of the awesome staff there (Sarah Wisniewski and Kate Hanford) to continue training and developing and refining the system. To my incredible delight over the last couple years, they've done just that.
That's Sarah with the weedwacker. She and Kate have since both move on to other farming ventures. Sarah is in now a commercial mushroom farmer at her own Sugar Bee Farm.
Thanks to Sarah for the last two pictures here.